Looking for the Ultimate Alaskan Adventure?
Anderson Lodge Alaska is located in Thorne Bay Alaska, on Prince of Wales Island. This small Alaskan town has something for every outdoorsman. Saltwater fishing will fill your freezer with Halibut, Salmon, Lingcod, or Yelloweye just ten minutes from our dock. Fill your soul by freshwater fishing for Steelhead, Salmon, and Trout. Use your favorite fly or spin rod in our pristine rivers, lakes and streams. Charters and self guided skiffs are on-site at our private dock — incredible views are everywhere.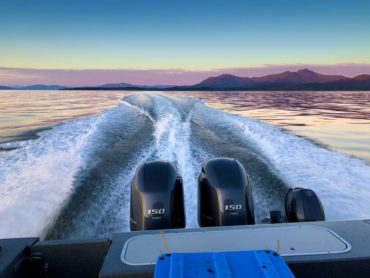 Situated on the Thorne Bay waterfront, local amenities are readily available. Our on-site tackle shop, "The Tackle Shack," has everything you'll need for salt and freshwater fishing and is the only fully stocked fly shop on Prince of Wales Island. Prepared food, groceries, and signature espresso drinks are here at your fingertips. You will be walking distance to our deli and coffee shop, and next-door to the local café. We have everything you need to make your Alaskan adventure complete.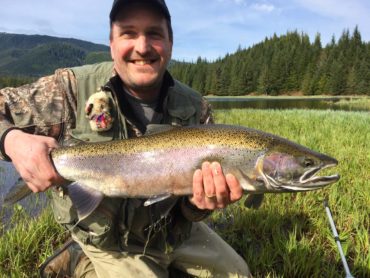 Test your upper body workout regimen bringing in a Pacific Halibut — known for peeling all the line you've gained when they see the boat. They are a connoisseur's favorite at the dinner table or deep fryer. A fisherman's favorite, they have the highest meat to weight ratio. Halibut ceviche anyone?
All 5 species of salmon are native to our local waters. Seasonally dependent, plan your trip around your favorite species! Ask our expert staff how to plan your trip accordingly.
Spring Steelhead will ignite your favorite single-hand or switch rod with some fish approaching 40+ inches. Have you ever sight fished a Monster Steelhead? SE Alaskan waters are catch and release for Steelhead. Want to hook your fish on your own fly? Bring your favorite fly tying supplies, and have our expert staff walk you through local patterns and materials to make your experience one for the books!
A true "get-away" Experience
Your adventure begins after your 1hr 45min flight from Seattle to Ketchikan. A 35 minute scenic float plane ride from Ketchikan over Clarence Strait and the Eastern side of Prince of Wales Island will bring you to The Thorne Bay Seaplane Base. Our staff will meet you at the aircraft and whisk you 1/4 mile down the road to your lodging.
Your chance to experience a true Alaskan adventure with our Coast Guard Licensed Captains, or a self guided experience with our expert advice, is a phone call away. Explore our hiking trails, watch a summer sunset while paddle boarding down the bay, spend a day foraging for berries and mushrooms, watch your crab buoy out the window, wondering if 6.5 inch Dungeness are filling it as you sleep. As is often said, "If you starve here there is something wrong with you." Book your trip early. Our season fills up quickly.
We are here not only to make your trip memorable, but to build lifelong memories and stories you will tell your friends and family about for years to come.